Get ready to see the world through Canadian-made lenses and stylish frames and sunglasses to suit any style. From smart and sensible to wild and adventurous, we have it all available for you.
Browse our wide variety of frames and sunglasses from brands you love like Ray-Ban, Oakley, Guess, and more. All you need is an up-to-date prescription to get started. If you need an eye exam, you can start there. If you already have a prescription, get browsing!

Since its launch in 1998, WestGroupe Optical has made it their goal to produce and distribute the highest quality and most innovative eyewear available on the market today. In addition to being the Canadian distributor for such brands as Tony Hawk and Stepper Eyewear, WestGroupe creates and manufactures KLiiK Denmark, FYSH and EVATIK.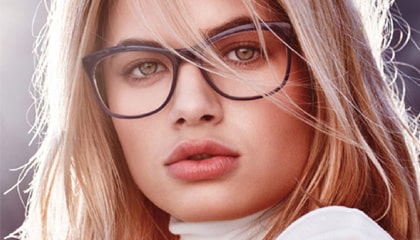 GUESS has been part of Marcolin's brand portfolio since 2013. Guess eyewears are a fantastically crafted, high quality, design orientated glasses collection featuring many different eyewear shapes and styles. Ranging from thick, smooth and sleek frames, to classic thin metal frames and everything in between, there is a large variety to choose from.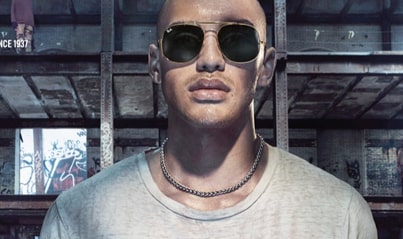 The Ray-Ban brand has continued to evolve and develop over the past 75 years to sit proudly amongst the worlds most iconic brands. A classic luxury brand that's not only at the fore front of technology but never forgets its roots. History has shown that since the glasses first appeared, the Ray-Ban brand has set the trends that others have followed.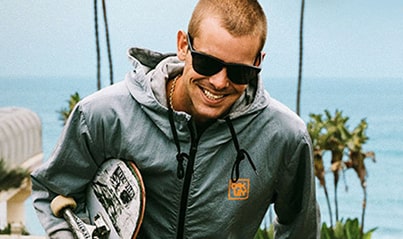 Oakley was started by Jim Jannard in 1975, the name comes from Jannard's dog. Today Oakley eyewear is well recognized by many celebrities and athletes. The eyewear has been used in major sporting events like the Olympics and Tour De France.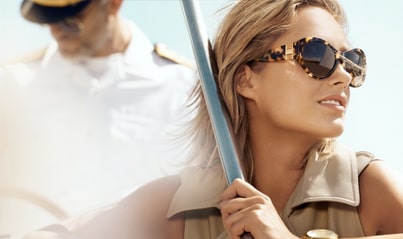 One of the leading American luxury lifestyle brands is Michael Kors. Known for his exquisite jewelled incrusted watches, catwalk clothing and delectable fragrances there is not much this man cannot do.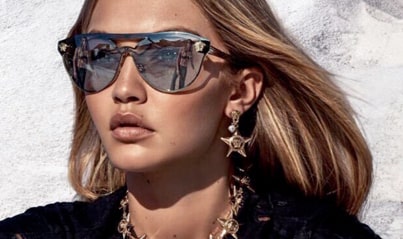 Known for its bold prints, elaborate embellishment and luxurious dark glamour, Versace collection mirror the catwalk shows. The Versace include rich colour palettes and embossed gold detailing.

Vogue eyewear is designed using vivacious colours and bright gleaming patterns that reflect the hallmarks of style and glamour that the Vogue is popular for. Founded in 1973, Vogue eyewear is made exclusively for those who like young, lively and glamorous looks.

Born in 2008, this eclectic brand reflects all peculiarities of the Japanese world where tradition and modernity coexist in perfect harmony; where the tea ceremony and temples coincide with karaoke and manga without any collision.

The inspiration to this very deep, noisy, colourful and cheerful world gave birth to Kioto Nakamura Eyewear.

CHARMANT Titanium Perfection embodies the pinnacle of top-quality eyewear. This premium CHARMANT brand features light and comfortable men's and women's frames made of the finest titanium materials.

GANT is a lifestyle brand, with an American sportswear heritage, offering modern high-quality casual wear with a European touch. The company's values are based on its authentic American East Coast heritage, dating back to the launch of the brand in 1949.

Our effortlessly elegant, yet chic and contemporary name represents what we hope to bring to our customers. By mixing classic basics and the latest in fashion trends, our goal is to give our customers the confidence they need to show up with just that: class---with a touch of flair.

Stylish and durable EasyTwist eyeglasses are made with a proprietary shape-retaining metal that outperforms other alloys. This safe, flexible, and hypoallergenic eyewear is made to withstand whatever any active child or adult dishes out.

B.M.E.C. (Big Men's Eyewear Club) specifically makes eyewear for larger heads that are stylish & come in a variety of colors and frame sizes.Geared for larger men, BMEC offers masculine styling, quality construction, and great value to a segment of the population that is significantly underserved.

EasyClip was the first eyewear to come with a patented magnetic clip-on sunglasses lens for a seamless fit. The magnetic bond is ten times stronger than ferrous magnets, for effortless sun protection that pairs with your prescription glasses.

Willow Mae is the only Canadian line catering especially to small faces. Founded in 2016 in Montreal, we designed Willow Mae with you in mind: a feminine line for the petite girl, with a wide array of colors and flattering shapes.

Modz Kids frames are the answer to parents looking for durability and affordability. Kids love them for their cool styles and vibrant colors, not to mention comfort. Parents love the frames because they're affordably priced - making a "back-up pair" a viable option. Modz Kids is a very wise choice for today's active youth!

Comfort, style and quality are all hallmarks of the Velenciaga eyewear brand. They also pay close attention to fashion trends which means they always have the perfect lineup to suit current trends while at the same time remaining affordable. Velenciaga has conservative eyewear you can use to get through a day at the office, but still keep you looking stylish.

Titanium is one of the finest materials used in eyewear today. Its lightweight, strong, anti-corrosive properties are all conducive to great comfort and long-term wear. Modz Titanium delivers on all of these qualities with the added bonus of affordability.

This diverse assortment of impeccably styled men's frames offers affordable, fashionable options for day and evening. While primarily featuring classic, sleek designs, Giovani di Venezia also offers trendier styles for the more urbane man.

We currently offer 8 unique in-house lifestyle brands with multiple focuses on essential market segments such as managed care, young adults, ladies etc. We understand the growing challenge to meet patient demands for affordability, style and quality; therefore, we are committed to helping your business provide an exceptional frame buying experience for your patients.

Sophisticated eyeglasses and sunglasses styles from Coach complete your eyewear look with a heavy measure of modern chic. Timeless silhouettes that made Coach a luxury favorite mingle with updated styles to suit a fashionista's diverse wardrobe.

Cute onO kids collection is inspired by children's growing attention to their wardrobe and their search for individuality. Every Cute onO frame confidently delivers unique and fun spirit to any adolescent. This line features a range of frames for ages 7-14 in quality injection and cellulose acetate.

BeWild collection is modern, bold and colorful. This line is ideal for teens and young adults who want up-to-date, unpretentious eyewear that reflects their energetic personalities. The BeWild collection uses brave colors and unique textures to add substance into its sleek and strudy frames.

A high quality and affordable brand, Activa offers fashionable frames for everyone. With a large collection to enhance and accentuate your best features while offering maximum stability and durability.