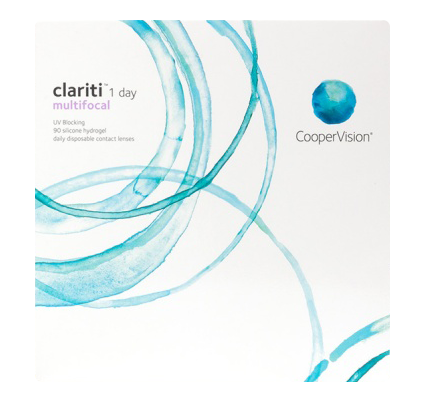 Quantity discounts available:
Save

$

134.00
- When you buy an annual supply
(5 Boxes /

$

107.20 per box)
Quantity discounts available
Clariti® 1 Day Multifocal 90 Pack
Dr. Coward and Associates will deliver the Product to the address provided by the Customer in a commercially viable manner as quickly and efficiently as reasonably possible. In some instances, an order may be delayed. Delays may include a lack of Product in stock, product requiring special handling or prescription information needing to be verified.
Once contact lenses are in stock they should be shipped within 1-2 business days and will arrive within the time estimate provided for your chosen shipping method. If you are dissatisfied with the delivery time, your sole remedy and recourse is to return the Product in accordance with our return policy. Except for delays outside of our control, the delivery period will not exceed 30 days.
Dr. Bruce Coward and Associates offer a 14 day return policy on all eyewear.
To make a return simply contact us within the stated days for a complimentary electronic shipping label that can be printed off. Please ship the product back to us as soon a possible after you receive the label to receive your refund.
Dr. Bruce Coward and Associates has the right to deny returns or exchanges, in very rare circumstances, based on the nature of your prior transactions.