Contact Lens Hygiene
Contact lenses are a simple and easy way to correct your vision, but just like glasses, they require cleaning and care to avoid the risk of infection or damage to your eyes.
At Dr. Bruce Coward and Associates, we make sure that you are completely happy and comfortable with your contact lenses before you start wearing them. When you first purchase contact lenses, one of our optometrists will teach you how to insert and remove them correctly, so you are comfortable and confident with doing this yourself. We will also show you the right way to clean and store your contact lenses to prevent potential yours eyes from developing infections or irritation.
How To Clean Contact Lenses
When inserting and removing your contacts, always make sure to have clean hands and nails. The best way to ensure this is to wash your hands with mild soap and dry them thoroughly before touching your eyes or face.
Check the contact lenses for any debris, scratches, or cracks. If for any reason your lenses don't look safe to insert, please avoid doing so as this could result in scratches to your eyes or infection. You can call one of our contact lens specialists right away, so we can advise you accordingly.
All being well, once your contacts are in, you should clean the case by rinsing it with fresh contact lens solution to remove any dirt or bacteria and then leave it to air dry upside down on a clean tissue. Contact lens solutions should always be stored in a safe, clean, and temperature-controlled space, with the lid kept shut when not in use.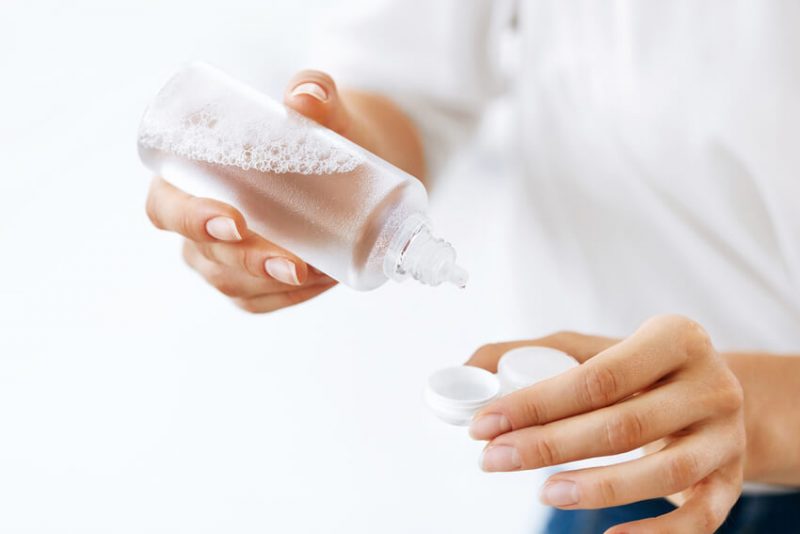 Contact Lens Do's and Don'ts
DO'S
Throw daily disposable contact lenses away after wearing them and do not store or reuse them.
If you wear reusable lenses, always use the contact lens solution we have recommended to clean them. Using water or saliva can cause a build-up of bacteria which increases the risk of eye infections.
Always store your reusable contact lenses in the correct solution. This prevents them from drying out and cracking. If you think your contact lenses are damaged in any way, use your next pair in your supply.
Apply makeup and hairspray before inserting contacts. This will prevent chemicals or residue from sticking to your lenses which could lead to blurry lenses, eye infection or irritation. In the same manner, remove your contact lenses with clean hands before removing your makeup.
Make sure you get regular contact lens check ups and attend eye exams as often as recommended by our optometrists to monitor your vision and eye health.
DON'TS
Throw away lenses after their wear time is up and don't be tempted to carry on using the same pair. For example, if you wear two-weekly lenses, you should dispose of them after the fortnight is up and start wearing a fresh pair.
Do not wear contact lenses if you are ill and your eyes are irritated, red, or or you are experiencing light sensitivity, as this could aggravate your symptoms. Wear glasses during this time if possible and resume wearing lenses once you are well again. If your symptoms persist, don't delay in contacting one of our optometrists for an emergency check up.
Do not share your contact lenses or wear someone else's. This can lead to a serious eye infection.
Never swim or shower in contact lenses. The parasite acanthamoeba is found in water and can infect the front surface of your eye – the cornea – potentially leading to vision loss.
Avoid sleeping in contact lenses, unless you the type of lenses you wear requires you to have them on at night. This reduces oxygen flow to the eyes, again increasing the risk of infection.
Contact Lens Care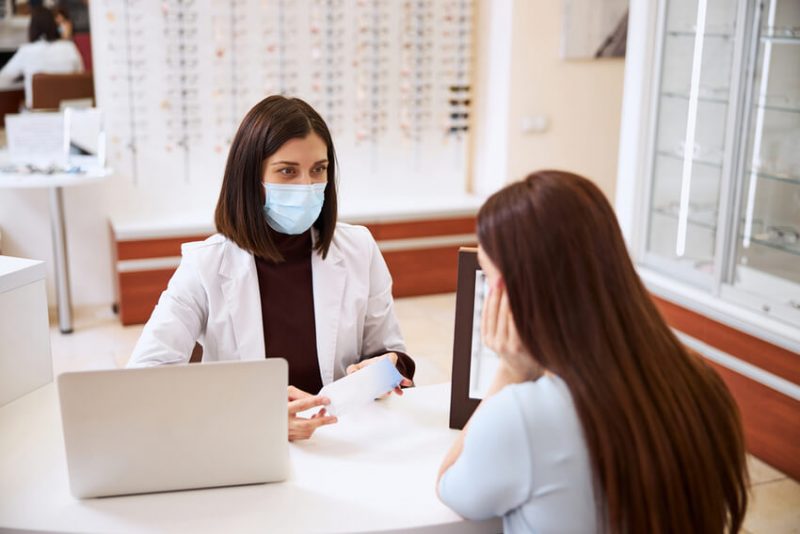 Our optometrists in Trenton, Belleville, Brighton and Picton have been successfully fitting patients with contact lenses for more than 10 years. We also provide a large selection of recommended contact lens accessories such as cleaning solutions and storage cases to ensure your lenses are always clean and ready to use.
Contact us today to learn more about wearing contact lenses or to book a consultation with our specialists today.